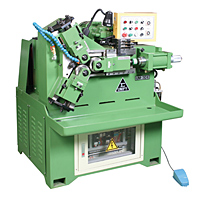 Product ID: UM-3DX
UM-3DX 3-die thread rolling machine is specially designed for tubular processing. Equilateral triangle supports running to assure the roundness.
with 3- die thread rolling machine is with equilateral triangle supports the thread rolling for improving roundness, concentricity and vertical degree.
UM-3DX thread rolling machine is driving by hydraulic unit: Featuring in easy operation and powerful pressure.
UM-3DX is set with 4 speeds transmission gear with grinding shape teeth: Featuring in noise-free, durable and precise transmission.
Particularly applied to the tubular thread processing, such as oil connectors, bicycle, automobile and motor vehicle parts, radiating pipe etc.

3-Die Thread Rolling Machine
Feature:
Specification Table:
Capacity \ Model

UM-3DX

Work piece diameter(mm)

Ø18 ~ Ø60

Axial pitch for ISO threads(mm)

1.0P ~ 6.0P

Length of thread rolling(mm)

Plunge rolling(In feed):48

Thru feed rolling:no limited

Spindle speed

220、350、580、720r.p.m

Thread rolling die(mm)

Diameter

Ø120

Bore

Ø40

Length

25,50

Keyway

8 X 4

Distance of the rolling spindles(mm)

105 ~ 190

Output (pieces/min)

4 ~ 25

Swivel of roll-axis

± 3°

Main power motor

5HP 6P(3.7kw)

Hydraulic motor

3 HP (2.2 kw)

Max rolling pressure

12 TONS

Net weight (Approx.)

1300 kgs

Gross weight (Approx.)

1450 kgs

Overall dimension (L x W x H)

1600 mm x 1500 mm x 1600 mm

Shipping measurement (L x W x H)

1450 mm x 1400 mm x 1700 mm