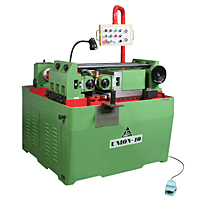 Product ID: UM-40
A mass of screws can be precisely made by thread rolling machines with thread rolling dies. "Cold forming" is the most appropriate description of thread rolling progress. Place a round material blank in the between of thread rolling dies. The die thread penetrates the blank surface to form the thread roots and displaces material outward form the crest. This is the basic theory for thread rolling.
The features of UM-40 thread rolling machine:
Thru feed and in-feed (plunge feed) both available: The rolling time and the rolling length can be adjusted by the sensors.
Powerful rolling pressure : The slide way feeding is driven by hydraulic unit, precision in positioning, owerful without any distortion.
Solid structure: heat treatment of high tension cast iron FC-25 frame is durable
Steady feed motion: Ground square slide way can avoid the jumping , vibration and wear away.
Perfect transmission: The ground-thread worms with heat treatment progress can be matched completely and smoothly with phosphoric brone worm gears.
Specially suitable for: Long length screws, ACME screws, Ball Screws, machine parts, tool and automobile / motorcycle parts.

Hydraulic Thread rolling machine
Specification Table:
Capacity \ Model

UM-40

Work piece diameter(mm)

Ø6 ~ Ø40

Axial pitch for ISO threads(mm)

0.8P ~ 4.0P

Length of thread rolling(mm)

Plunge rolling(In feed):148

Thru feed rolling:no limited

Spindle speed

20, 35, 50, 70 r.p.m

Thread rolling die(mm)

Diameter

Ø150MAX

Bore

Ø54

Length

35, 70, 100, 150

Keyway

10 X 5

Distance of the rolling spindles(mm)

125 ~ 200

Output (pieces/min)

4 ~ 20

Swivel of roll-axis

± 4°

Main power motor

10 HP (7.5 kw)

Hydraulic motor

5 HP (3.7 kw)

Max. rolling pressure

27 TONS

Net weight (Approx.)

2,020 kgs

Gross weight (Approx.)

2,220 kgs

Overall dimension (L x W x H)

1,600mm x 2,100 mm x 2,000 mm

Shipping measurement (L x W x H)

1,500mm x 1,900 mm x 1,900 mm